Laser marking technology has penetrated into all industries of our life. The use of laser marking machine has no consumables, no environment pollution, and high processing efficiency. At the same time, it plays a great role in preventing counterfeiting.

China is a big country in manufacturing and production. Wires, cables and pipes are widely used in construction, equipment manufacturing, national defense,
power and chemical industries. In order to standardize the use standards, our country has successively issued a number of standards,
such as GB/T5310, GB/T8163, GB3087, etc.
Whether it is flexible cable or rigid pipe, it is stipulated that the manufacturer must indicate the origin, specification,
manufacturer and product information on the packaging or external box of the product.
Production status of cable and pipe
The production technology threshold of cable and pipe products is relatively low, and the products quality varies. Counterfeiting and shoddy products often occur and are difficult to control. It is often difficult for consumers to judge whether they are genuine or not.
In addition, many cables and pipes are exposed or buried underground for a long time, the surface marks are easily washed by rainwater or touched by hand,
which causes trouble for users in later using. However, some pipes used in the food and pharmaceutical industries have higher requirements, and the materials and printing materials are required to be non-toxic and harmless, and not easy to volatilize and fade. At this time, there is an urgent need for a non-toxic processing tool that can permanently mark information.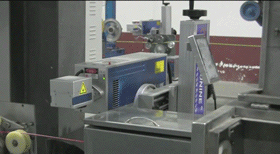 Cable and Pipe marking expert
The laser marking machine uses a laser beam to irradiate the material surface, evaporates to expose the deep material, to engrave exquisite pattern characters. It is not easy to wear and cannot be changed. Through laser coding, the product specifications, factory name, trademark and standard certification can be clearly
displayed on the wire.